Darkness Dave (Schrader) interviewed me tonight (7-10pm Pacific Time) on
Darkness Radio.
The Precise location of my bigfoot sighting near Spirit Mountain, Oregon, an area known for UFO and orb activity, as well.
In the three hour interview, I narrate some of the ghostly encounters that happened to me while I was living in a haunted ranch house as a kid, as well as other events that happened later (in my mid-30's) while I was living in a "bachelor pad" with several friends in Southeast Portland.
In addition to some rather hair-raising experiences with ghosts, I move on to cover some of the sasquatching experiences that happened over the course of a decade or so of intense research, camping, and experiments with telepathic communication.
The discussion covers some in-depth details about squatching near Spirit Mountain (Oregon), The Devil's Triangle (between Mt. St. Helens and Mt. Adams in Southwestern Washington), Helion Creek Canyon in the Clackamas River Basin (Oregon), and Goat Mountain (South Hillockburn Road, just off Highway 211, Oregon).
It's interesting to note that Spirit Mountain is known for all sorts of intra-dimensional phenomenon, including UFO's, orbs (especially mini orbs that seem to function as monitoring probes of sorts), and intra-dimensional portals.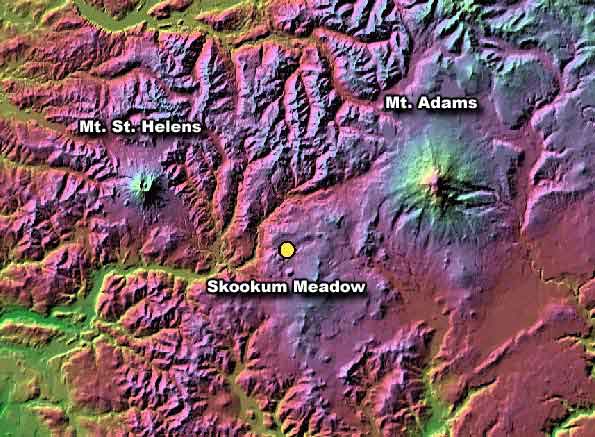 The area actually has a great deal in common with the Skookum Meadow area in Southwestern Washington. Thirteen years ago, I began squatching in earnest between Lone Butte and Squaw Butte (on each side of Skookum Meadow). This was the time that I was conducting a great deal of research for my novel, Kultus.
At any rate, I thoroughly enjoyed chatting with Dave tonight. His program is quite informative, as well as entertaining. It was a pleasure to share what I know about ghosts, sasquatches, UFO's, and Men in Black ("plaid" in my case).
Click here for Darkness Radio's archives that feature the three interviews with me
on 4/23/2014.
My personal experiences with the
Bigfoot/UFO Connection
My personal experiences
growing up in a haunted house
Physical contact with ghosts at night
Lessons from Beyond
Zombies and Sasquatches
My appearance in "Sasquatch & Us," a documentary by Chris Munch. (Chris is the writer/director of Letters from the Big Man, a feature length film about a bigfoot habituation scenario of sorts that ends up being the bigfoot habituating a woman rather than vice versa)
Sasquatches and their tactical use of long range acoustics